COLLEAGUE ENGAGEMENT IN THE HYBRID CONTACT CENTRE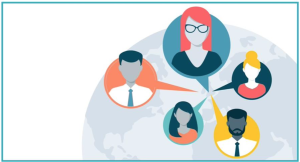 (WEBINAR)
COLLEAGUE ENGAGEMENT IN THE HYBRID CONTACT CENTRE
TUESDAY NOV 28TH, 12 – 1PM

Chair: Jane Thomas, South West Contact Centre Forum and Northern Contact Centre Forum
Forget about 5 days a week back-to-the-office for everyone, that's dead. And with office occupancy levels at around 50% across the country, the debate needs to move onto making the most of the New Normal.
At least that's what Stanford Professor and leading WFH analyst Nick Bloom says about the American market, and it's difficult to disagree with his logic.
In this webinar we're looking at the:
Main reasons WHY people want to work-from-home, or work partially from home and partially from the office, and ask HOW you can best address those needs.
Steps you need to take to optimise engagement, productivity and employee happiness in the WFH/hybrid world.
The session will feature real insights and tangible examples to help support your Employee Engagement strategy.
We'll also provide a summary of the latest UK research into the New World of Work and ask what evidence exists to show that @home workers can be as engaged, productive and happy as office-based personnel.
Join our webinar to speak to experts and share your experiences.  Jane will be joined by Sensée Service Delivery Manager Jo Hodge and Sensée Team Leader Ceri May.
Agenda
12.00 – 12.05: Introductions (Jane)
12.05 – 12.30: Colleague Engagement in the Hybrid Contact Centre (Jo and Ceri)
12.30 – 13.00: Open Floor Q&A session (All)
We hope you can join us. Click here to register or use the button above.